The capability to accurately measure the geometry of products involved in a production cycle is essential to ensure the cycle operates efficiently and correctly.
The reality, however, is that some objects are more complicated to measure than others and require different CMM measurement strategies. The most common techniques are off-site and on-site CMM measurement. In some cases, certain parts can be relocated to a metrology facility, while others are too cumbersome or cannot be removed from production to be measured correctly.
CMMXYZ is North America's leading metrology provider, specializing in on-site and off-site CMM measuring equipment and services. We provide customized solutions for today's manufacturing and production industries using industry-leading technology and trained technicians.
We offer a wide range of professional measurement, repair, calibration, and training opportunities to streamline your production. Our on and off-site measurement capabilities ensure accuracy and efficiency from start to finish, so you can maximize productivity and reduce costs.
What are On-Site Measurement Services?
With on-site measurement services, a trained technician will deliver a shop-floor or portable CMM machine to your facility to complete the necessary data collection.
These services are designed to increase productivity and eliminate downtime. Instead of halting production to remove a part and transport it to a metrology facility, on-site services allow you to have a specialist that can provide the requested CMM and perform the measurements needed on-site to continue production with minimal interruptions.
On-Site Services CMMXYZ Offers
Certain parts may be too large to transport safely, or perhaps they're an integral component of your production cycle. When that becomes the case, you need trusted CMM solutions that can adapt to your business's unique needs.
Our on-site measurement services are designed to leverage efficiency and convenience by delivering one of our calibrated CMMs to your facility. Our technicians will set up our machine at your request and perform the necessary data collection to help accomplish your production goals.
When it comes to on-site CMM services, CMMXYZ offers two streamlined solutions:
Portable Equipment
In many cases, production leaders need efficient and reliable dimensional measuring but are unable to move the necessary parts for a variety of reasons. This may be due to the size of the object or its role in the production cycle.
We provide portable arms and shop floor CMMs that bring the convenience of metrology measurements to your factory floor. Our flexible services are designed to keep your production lines going with minimal interruptions, so you can focus on improving productivity and producing quality products.
Equipment Rental
Our CMM equipment rental services are designed to leverage the latest CMMs without the cost of purchasing a new model. We offer a variety of convenient rental options to meet the unique needs of your business. Our calibrated portable and fixed CMMs provide cost-effective measurement solutions to optimize your production capabilities to their full potential.
Dimensional Measurement
When you need to measure the critical parts of your production components but are unable to transport them to our facility, we bring the convenience of on-site CMM measurements to your shop floor. Our dimensional measuring services can determine which features are cause for concern so you can address the issue in a timely manner.
We use the latest equipment and trained technicians to provide efficient and accurate dimension inspection solutions with minimal interruptions to your production cycle.
Reverse Engineering
Reverse engineering allows you to reproduce specific parts by deconstructing the object and carrying out specific measurements and assessments. Using a CMM ensures the complete surface geometry is recorded so you can understand the details of how the part was designed and proceed to replicate or make any modifications to the original.
We offer customized reverse engineering solutions in-house to help you maximize our three-dimensional scanning capabilities and streamline your production process without transporting the part itself.
Contract Programming
If you're repeatedly measuring the same type of parts, CMM contract programming allows you to optimize your existing programs, reduce runtime, upgrade software, and create an efficient inspection procedure.
Our trained technicians will help you choose from the types of CMMs available and arrive on-site to carry out the necessary contract programming solutions so you can focus on increasing productivity and reducing operating costs.
Repairs
When your CMM isn't performing at its optimal level, our technicians will conduct the necessary CMM repairs to ensure you can continue to streamline production on the shop floor. Our facility will provide the tools and resources your machine needs to operate accurately and efficiently.
Calibrations
Calibration is essential to maintaining the accuracy of a CMM and reducing the chance of inaccuracies and equipment failures. Our certified technicians will perform the necessary tests to ensure your machine is operating to the highest standards.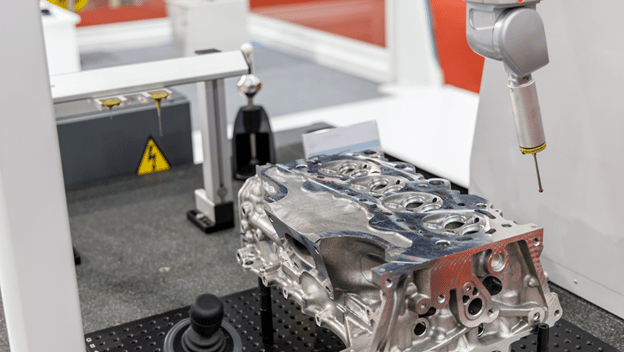 What are Off-Site Measurement Services?
Off-site measurement services are carried out at a licensed metrology facility by trained technicians. Clients leave their parts with a specialist for measurements, calibrations, repairs, or any additional metrology service until it is ready to go back into the production cycle.
Off-Site Services CMMXYZ Offers
Our off-site CMM services are designed to take the stress and overwhelm off your shoulders so you can focus on being present on the shop floor. Our facility is equipped with the highest quality machinery to complete your requested CMM service in a timely and cost-effective fashion.
Dimensional Measurement
Dimensional measurements are essential when you need to ensure you're producing the right parts for your business. When issues with the product or system arise, our technicians will inspect the areas in question and identify the concerns to be addressed.
Our off-site dimensional measurement services ensure the correct data is collected from your part so you can seamlessly integrate it back into production.
Reverse Engineering
Our off-site reverse engineering services are designed to help you understand your next steps by deconstructing and analyzing a particular part. We'll use our in-house laser trackers to scan and recreate features, add subcomponents to an existing assembly, or convert raw point-cloud data to the CAD file format of your choosing.
Contract Programming
Contract programming can help you get the most out of your CMM. Our skilled technicians will carry out your requested contract programming service professionally and efficiently, so you can optimize your programs and reduce production runtime.
Training
Our in-house CMM training courses are designed to equip students with the knowledge and tools they need to further their careers in metrology, inspection, and engineering. We offer a variety of courses with customized training solutions, both on and off-site to help you take the next steps in a warm and welcoming classroom environment.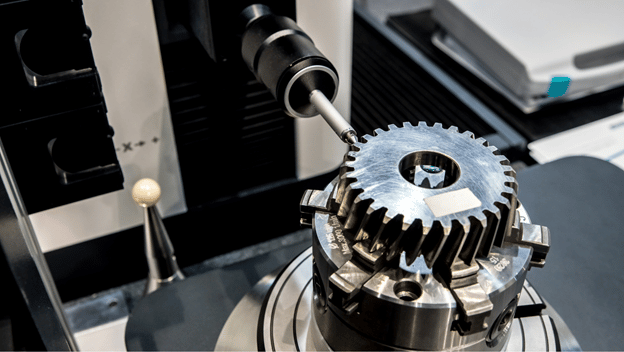 How to Determine if You Need On-Site vs. Off-Site Services
Every metrology service is unique to its industry and shop floor requirements. On-site services allow certain parts to operate simultaneously while being measured, while others require the equipment and technicians to be off-site to carry out the necessary measurements.
Several factors can determine whether you need on-site or off-site CMM measurement services.
Size
The size of the part is a significant factor when deciding which service is right for your business.
Large or heavy components may be too cumbersome to relocate to a metrology facility and require portable CMMs to carry out measurements without moving the object. On-site measurement services allow shop floor leaders to gather necessary data without compromising their production line.
On the other hand, parts that are compact in size and non-essential to production can benefit from the equipment and resources available at a metrology facility.
Timeline
When time is limited, on-site technicians can perform the necessary data collection and tailor their services to meet your timeframe by providing portable CMMs that bring the technology to your shop floor.
On the other hand, off-site services allow for more detailed measurements when time isn't a significant obstacle. Technicians can perform individualized measurements and offer a detailed report of their findings.
Portability
Certain parts are too cumbersome to relocate and can cause production delays when they're moved. Utilizing on-site measurement services is an effective way to mitigate interruptions in production while collecting the data needed to increase productivity and innovation on the shop floor.
Budget
It's important to consider your budget when deciding between on and off-site metrology services. The cost of on and off-site services can vary, and you want to ensure you're optimizing production and gathering the data you need without raising your operating costs.
Off-site services are generally more cost-effective, however, there are affordable options for those needing on-site solutions. Equipment rentals can save money while providing the CMM equipment needed to measure and inspect the parts in your production cycle.
Proximity
If your shop floor is near a professional metrology facility, it may be beneficial to consider off-site metrology services. A local facility will have more extensive equipment and resources available to help you optimize production.
On the other hand, if it isn't feasible to visit a facility, on-site services offer the convenience of timely CMM services.
Security
Security can play an important role in choosing appropriate contract measuring services. If a particular part is unable to be moved from the shop floor for security reasons, you'll want to utilize secure on-site solutions. Technicians can bring the necessary equipment to your facility and perform the necessary measurements without compromising the integrity and security of the part.
Benefits of On-Site Measurement Services
When you're unable to physically relocate a part to be measured, you need reliable technicians and their CMMs to come to you. On-site measurement services offer a range of benefits to production leaders without compromising speed, accuracy, or efficiency.
Options
Each part in the production cycle is unique and may respond differently to a CMM contact or non-contact probe. On-site measurement services provide clients with options so that they have access to the CMM (or CMMs) that can successfully measure their part.
Adaptability
In many cases, certain parts are too cumbersome to relocate or could be damaged if removed from their place in production. Shop floor or portable CMMs act as the bridge between the need to gather accurate data and the importance of keeping production lines operating efficiently.
Productivity
Production lines can't afford to lose productivity or proficiency, and the need to gather data points can get in the way if a manufacturer must remove the part and transport it to a nearby metrology facility. On-site CMM measurements allow technicians to gather the necessary data without compromising the part or its place in the production cycle.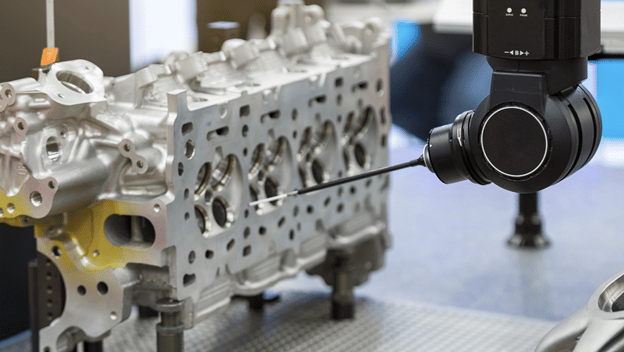 Benefits of Off-Site Measurement Services
An established metrology facility offers a spectrum of trusted in-house services from measurements to repairs, calibrations, and software upgrades. At CMMXYZ, we provide each of those services under one roof to provide our customers with the full range of benefits.
Range of Devices
Every component in a production cycle is unique and requires specialized measurement solutions. Our facility offers a range of machines to choose from, including gantry and portable CMMs. Our technicians will select the equipment that is optimal for the part in question to ensure measurements and data are accurately acquired.
Quality Assurance
We hold every off-site measurement service to the highest quality standards. When customers leave their machine or production parts in our hands, we ensure every data point is collected accurately and efficiently and every calibration and repair is carried out without error.
Trained Technicians
At our Mississauga facility, our technicians are highly sought-after metrologists and provide industry-leading resources and experience to every service. When you leave your equipment with our team, you can feel confident focusing on your current production while we gather the data and measurements needed to streamline that process.
Work with CMMXYZ
At CMMXYZ, we're proud to be the leading metrology provider in North America with over 30 years of expertise and client satisfaction.
Our on and off-site services are designed to maximize convenience and minimize costs by providing a range of customized solutions that fit your business. Whether you're looking to buy a CMM used or new, calibration and repair services, or training opportunities, CMMXYZ is ready to help you choose the right CMM measurement service for you.
Contact our team today to get started.