Hexagon Manufacturing Intelligence is one of the most prominent CMM providers worldwide, specializing in software-centric information technology solutions to improve the quality and productivity of every major industry.
A Hexagon CMM measuring machine is designed to transform the way manufacturers and shop floors operate. As a leader in the industry, quality and innovation are the foundation for their machines and software. Hexagon provides solutions across various industries, utilizing data from engineering and design, production and metrology with a goal to make manufacturing smarter and more efficient.
CMMXYZ is proud to be a Hexagon Manufacturing Intelligence partner helping clients work in more innovative, more effective ways. As the leading metrology provider in North America, we offer quality Hexagon repairs, calibrations, and a wide selection of new CMMs to streamline any manufacturing or production process.
The History of Hexagon
Hexagon's history involves some of the most significant names in industrial and measurement metrology. The development of three-axis measuring machines began in the 1960s. Before that time, only a two-axis machine developed by the Sheffield Corporation was in circulation. When Italian company DEA, now a part of the Hexagon Metrology Group, created the first three-axis prototype, the metrology industry advanced significantly.
Since the 1960s, the Hexagon Metrology Group has continued to evolve and grow with the development of CMM technology. Acquiring pioneering companies like Brown & Sharpe, DEA, Leica Geosystems AG, and CE Johansson, Hexagon became one of the leading metrology companies worldwide.
In 2015, Hexagon Metrology became Hexagon Manufacturing Intelligence. This rebrand represented the evolution and innovation of the new wave of Hexagon products and services. Understanding their clients desired more than dimensional metrology, Hexagon began expanding its capabilities to include CAD/CAM software and statistical process control. Their commitment to learning and evolving with the advancements of CMMs and their software is why manufacturers and production leaders worldwide trust Hexagon Manufacturing Intelligence for their metrology needs.
Which CMMs Does Hexagon Offer?
Hexagon Manufacturing Intelligence specializes in providing customers with a comprehensive range of products and services for industrial metrology. Specifically, they offer products and services to various industries, including automotive, aerospace, energy, and medical. With Hexagon Manufacturing Intelligence, every client is provided with verifiable measurement information throughout the entire life cycle of a product – this includes the development and design to the production, assembly and final inspection.
Hexagon's technologies are designed to increase productivity, accuracy, and efficiency on the shop floor. As a leading technology and metrology innovator, their products offer significant benefits.
Shop Floor CMMs
The hectic and cluttered conditions of shop floors pose numerous challenges when it comes to getting accurate measurement results in a fast-paced working environment. In fact, sometimes, it seems like these results are nearly impossible to obtain. However, to solve this issue, specialized shop-floor coordinate measuring machines (CMMs) from Hexagon can lend a helping hand. With initiative and efficiency these specially formulated CMM's allow operators to inspect parts with point-and-click ease.
Furthermore, products in this class maintain high accuracy even in the most challenging working conditions; whether you are working with large temperature ranges, harsh environmental conditions, vibration or dirt, the superior performance and accuracy will always be intact.
Portable Measuring Arms
Hexagon's Portable Measuring Arms offer ease and durability, conveniently allowing the user to take measurements directly on the manufacturing floor. As a result, the user no longer needs to tolerate prolonged installation times – instead, they can enjoy the simplicity of operation and reliable 3D measurements. Offering a unique design, these CMM's boast articulated arms, which can be adjusted to various length probes and scan heads to measure points that are difficult to access, either optically or by touch.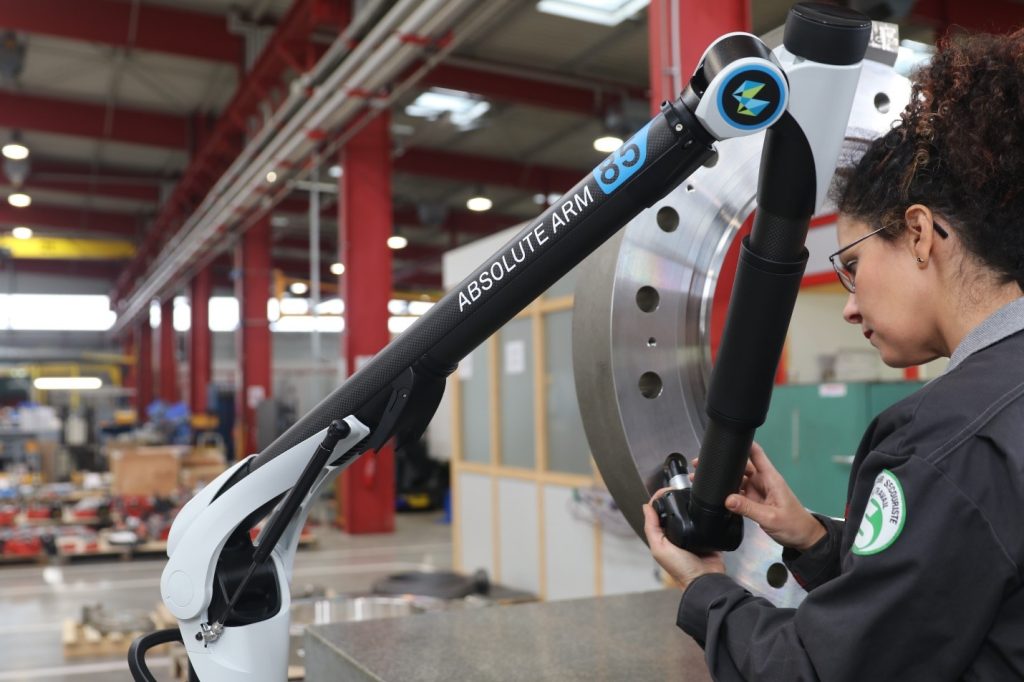 Hexagon Softwares
Hexagon Manufacturing Intelligence is the metrology industry's largest software developer. They offer an expansive range of in-house developed and customizable CMM software programs designed to deliver inventive and effective data possession, analysis, and evaluation, in addition to proficient data management and reporting tools.
PC-DMIS
PC-DMIS software is designed to allow dimensional measurement data to carry through any organization. This software solution is the leading metrology software worldwide. It allows metrology professionals and manufacturing operators to create accurate measurement routines, fulfill each routine on the shop floor, and make future decisions based on the given results.
PC-DMIS for CMMs boasts sophisticated measurement algorithms and will work seamlessly with Hexagon CMMs or any third-party measuring system. These capabilities can decrease training costs and provide a coherent user experience across all operations, which results in greater resource management.
For metrology specialists looking to create a measurement routine, PC-DMIS provides a complete range of programming capabilities, including geometric dimensioning and offline program functionality.
PC-DMIS for Portable Arms
Portable arms have changed the way manufacturers monitor their operations. They allow for more convenient measurements and analysis by taking the CMM to the object, not the other way around. To increase functionality without compromising the machine's capabilities, however, innovative software is essential.
PC-DMIS for Portable Arms provides the tools shop floor leaders need to monitor their operations and identify any significant issues before they become expensive problems. PC-DMIS Portable can measure complex parts thanks to its origins in the automotive and aerospace industries. Its algorithms help align custom parts by using repeated techniques.
Shop floor leaders also benefit from its range of scanning techniques and supported devices, allowing for streamlined measuring processes. Its software tracks every measured data point and will only provide final features and dimensions when every piece of information is available.
PC-DMIS for Laser Trackers
PC-DMIS for laser trackers allows users to use a single suite for all Hexagon measurement equipment and nearly any third-party sensor. This cohesion provides a similar look and feel across all inspection solutions. Through this efficiency, training costs are lowered, and inspection specialists are utilized more flexibly.
This software is tailored to operate portable CMMs in a smooth and efficient way, using large icons to show large coordinate windows and using remote control devices. Its unique tracker interface includes predefined toolbars to provide users with the most important settings, measuring and operational functionalities, and allow for customized individual settings.
DataPage+
DataPage+ takes the best features from DataPage and Dataview into a new, innovative user interface, including a non-proprietary database and customizable reporting and monitoring tools. DataPage+ allows users to collect their measurement data from any EMS suits program, including PC-DMIS Portable, PC-DMIS CMM, and PC-DMIS Vision.
Since all the collected data is in a single location, significant volumes of information gathered from different devices may be condensed into a streamlined collection. DataPage+ users can more efficiently shift and manage their data, engage in correlation studies, and customize their output formats.
Quindos
Quindos is an ideal software for industries including automotive, aircraft, machine tool powertrain, and power plant. Its database structure contains a complete range of measurement data, allowing for additional processing and reporting.
Quindos includes all of the necessary functions to measure standard parts, including gearboxes and crankcases. This software provides a fully automated execution for all tasks, maximizing the efficiency and accuracy of any inspection process. Quindos provides robust optional programs designed exclusively for high-precision components.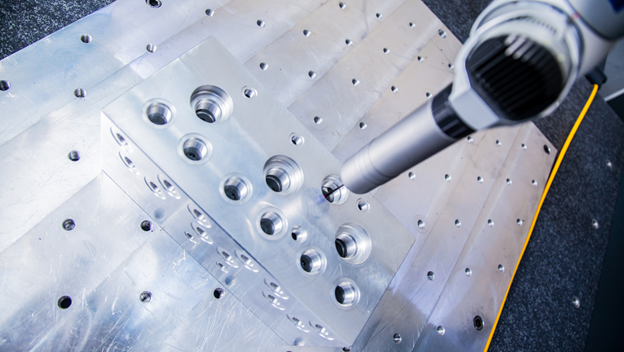 Industries Using Hexagon CMMs
Manufacturers and shop floor leaders across various industries face various production challenges from efficiency to machine functionality. Hexagon CMMs have become a leader in the production process, streamlining process and have provided manufacturing solutions in every major industry, including:
Aerospace
Hexagon's ​​analysis solutions and multidisciplinary structural simulations have been used across the aerospace industry for over 40 years. Their CMMs assist aerospace suppliers in reducing their production cycle times to focus on designing the next generation of aircraft. Using advanced shop floor metrology tools, Hexagon CMMS are designed to produce accurate measurements in complex environments, such as aircraft structure plants.
An aircraft engine holds more than three thousand components, including hundreds of thousands of parts. These parts must be designed, assembled, and measured accurately and often include significant complex geometric parts from turbine blades to gears. Hexagon's advanced production abilities are designed to meet various product simulations and provide robust damage recordings to improve the overall functionality and safety of today's aircrafts.
Automotive
The automotive industry has pioneered manufacturing technology and relies on metrology specialists like Hexagon Measuring Intelligence to improve their production quality. Portable Hexagon CMMs are ideal for the industry, providing accurate measurements to various corners of the shop floor.
Using Hexagon's automated in-line white light scanning systems, an entire car body can be measured within minutes. Virtual assembly techniques minimize the amount of rework needed and leftover scraps. Hexagons near and in-line measuring techniques provide higher sampling rates and quicker inspection times for increased functionality and efficiency on the shop floor.
Medical
Medical technology can be a challenging area for manufacturers. Significant regulatory requirements increase the demand for seamlessly functioning medical devices that must be produced in completely hygienic environments. Hexagon CMMs and software provide the medical technologies industry with the reporting solutions needed to meet the high standards of the industry's top companies.
Hexagon's trusted CMMs are used to inspect exact metal parts, including surgical supplies, while their non-contact laser scanning techniques ensure small or fragile parts are accurately measured. Hexagon's metrology software packages include customizable reporting tools that help manufacturers meet their industry's demands.
Manufacturing
Manufacturers are continuously in competition to win contracts which put their businesses under pressure to deliver timely parts on budget and to the client's exact specifications. Hexagon CMMs offer the accuracy and efficiency they need to streamline their production process, whether they're crafting the gears for watches or the thin metal casings of home appliances.
Hexagon Manufacturing Intelligence provides manufacturing shop floors with advanced machine tool probes for inspections, customized dimensional metrology software, and CAD/CAM software solutions. Through integrated data, manufacturers are provided with more efficient decision-making, advanced quality control, and streamlined cycle times.
CMMXYZ Hexagon CMM Products
Hexagon 7.10.7 SF
The Hexagon 7.10.7 SF is designed to excel and thrive in complex environments. Its design is the result of more than 15 years of experience in shop-floor machine production and thousands of worldwide units in the field. This Hexagon CMM features advanced thermal compensation, shop-hardened design, built-in vibration resistance, covered ways, and optional contact analog scanning.
When combined with PC-DMIS software, the user experience is enhanced. Users can run inspection programs through touch-screen interfaces which require minimal training. Combined, they offer instant quality control and can help identify and react to process variations which increases productivity.
Hexagon Global Advantage 7.10.7
The Hexagon Global Advantage 7.10.7 includes an LED lighting and fixture plate system and integrated touch-screen monitor for a more efficient and accurate user experience. Its thermal isolation elements and temperature compensation are ideal for sensor performance when there are fluctuations in temperature on the shop floor.
Hexagon 4.5.4 SF
The Hexagon 4.5.4 SF is a compact CMM designed for maximum performance in temperature ranges from 15-40 degrees Celsius (59-104 degrees Fahrenheit). Its durable, low maintenance and sealed recirculating ball bearings are designed for increased accuracy, and its concise footprint is ideal to fit any shop floor layout. The Hexagon 4.5.4 SF is known for its flexibility, using 110-volt outlets without the need for shop air, and protective covered ways shield the machine from dirt and dust. Its low up-front cost and simple maintenance are significant benefits for any shop floor production leader.
Shop for Hexagon CMMs with CMMXYZ
CMMXYZ is proud to offer a range of Hexagon Measuring Intelligence products and softwares across North America. We provide fair and competitive used CMM prices, and our experienced metrologists are on-hand to answer any Hexagon metrology questions, offer product recommendations, suggest training courses and more.
Contact CMMXYZ today to learn more about our range of Hexagon CMMs, softwares, and any general metrology insight or resources.