Home > New Equipment > ROMER Portable Arms >

ROMER Absolute Arm with External Scanner
Modular High-End Scanning Platform
A modular high-end scanning platform, the Romer Absolute Arm 7-Axis "SE" series is designed for high performance. This portable CMM uses the ultimate combination of low-weight, high accuracy, a real-time geometric inspection system and a reverse-engineering system - in one single platform.
The Romer Absolute Arm 7-Axis "SE" series is designed for manufacturing industries, such as automotive, aerospace or general industries, that need to inspect measure or reverse engineer pieces. It can also be used on complex surfaces and on work pieces made up of the most challenging material types.
Third party scanners can also be connected; including the highly accurate CMS108 and Scan Shark V5 models. Alternatively, the Romer Absolute Arm 7-Axis "SE" seriescan be used without a scanner, as a 7 axis "pistol grip" tactile inspection system.
Additionally, with the capability of the ROMER SE series feature pack, an external laser scanner can easily and conveniently be added, changed, or upgraded at any time.
The ROMER Absolute Arm is available in seven lengths between 1.2 m and 4.5 m.
---
Features and Benefits: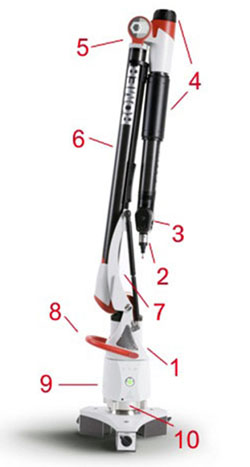 Patented Infinite Rotation (in the principle axes) allows easy access to areas which are challenging to reach. This feature also avoids any damage to the arm as a result of rotational hard stops.
Kinematic Probe Joint offers therepeatable connection of probes - with no need for recalibration. This feature allows the userto store hundreds of calibrated probe profiles within the system for instant recall.
Compact Head inspects parts or can be used to interact with the software when it`s in "mouse mode." This area is easy to hold and the integrated work light and digital camera allows the user to graphically document setups, to keep track throughout the project.
Patented SpinGrips allow the user to experience better user ergonomics as a result of the infinitely rotating, low-friction "approved" hand hold positions. SpinGrips also allows the arm to easily "float" in the operator's hands, reducing stress on the arm and maximizing accuracy and repeatability.
Absolute Encoders improve general accuracy and remove all complicated "homing" procedures that the user can experience
Aerospace grade Carbon Fiber Tubes offer a thermally stable, lightweight, stiff structure.
Low Profile Zero-G Counterbalance balances the arm's weight for easy operation with effortless control - even above and below the arm's centerline. Improved ergonomics results in lower operator fatigue and improved measuring results.
Integrated handle and lifting point allows for easy carrying.
Feature Packs plug into the base and provide interchangeable and upgradeable add-on capabilities. These include but are not limited toWiFi connection, battery power, and muchmore.
Universal thread mount base attaches to a wide selection of base and stand options, including magnetic bases.
---
Feature Pack Options for 6-Axis Absolute Arms:
Mobility Pack: A rechargeable battery and WiFitransmitter allows complete wireless use of the Absolute Arm.
"No Pack" Option: The Absolute Arm is completely functional without a feature pack, using a 110/220v power connection.
Romer Absolute Arms with Integrated Scanners are also available.
---
---